Cyclists
Jessica Kuo
Trip Year: 2006
School: UC Berkeley
Hometown: Saratoga, CA
Email: jessicaskuo@gmail.com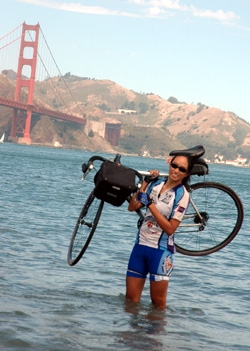 I don't have cancer. That's great. What did I do to be worth it? What can I do to be worth it?

In October, I applied to the 4K for Catherine Yang, who had soft tissue sarcoma, a rare cancer. During that time, I knew things were bad... I just wasn't too sure exactly what. She was already an incredibly strong person, but I wanted to do my part and give her a little push.

I thought that if I could tell Catherine that I was going to be biking across the country to raise cancer awareness, maybe it'd cheer her up. It was a means to encourage, motivate her--that if I, whom she's always made fun of for being too skinny, too clumsy, could bike 4,000 miles across the country, she would be able to overcome her cancer.

Maybe I was just being naive... but as soon as I found out that I got in, she was the first person I called. We ended up crying, out of mushiness. Out of a sense of hope, assurance that soon, in the summer, she'll be greeting me to pick me up after I bike across the Golden Gate. That won't be happening anymore. She passed away on December 22, 2005, three nights after I flew home for my winter break.

Since our senior year of high school, all of us, her friends, have come to learn the importance of hope and of life, of finding peace and making some sense out of the world in which we live. Catherine used to say how we were all too young to be learning this stuff--dealing with cancer, and even the prospects of death. That it was just too heavy for us to shoulder.

And it -is- pretty damn heavy. People our age shouldn't be dealing with mortality-related setbacks, either as patients or as friends of patients. We shouldn't be able to draw germane messages from Damien Rice's "Cold Water" or Vienna Teng's "Say Uncle," and dissecting the sin of despair in Chaucer's "The Pardoner's Tale" shouldn't be applicable to our lives. College students shouldn't have to be pallbearers; we shouldn't be attending funerals for one of our own friends.

Catherine was my closest friend, and it's still hard having to refer to her in the past tense now. I joined the 4K to encourage her, and to do it privately... Now, since the end of December, my agenda has changed.

When we were all coming to terms with her inevitable passing, I asked her in the hospital if I could ride in her honor. She nodded.

I know she wouldn't approve of me riding around and praising her as a symbol of virtue and courage. I would never do that, but I will tell it as it is--that she really was the strongest person I'll ever know, a "spirit of light" who should not have died. Sharing her memory across the country is something I need to do--to keep it alive for her, for her family, and for my own benefit too.

Of the 1.3 million patients who will be diagnosed with cancer every year, 7,000 to 10,000 of those people, mostly children, will have soft tissue sarcoma, and between 4,000 and 5,000 of them will die. There isn't a decent cure for it now because it's considered "rare," but is that fair? It's unacceptable--like two World Trade Center disasters every year, death-wise.

Because there's such a desperate need for a cure, I'm riding to emphasize the dire need for cancer research. I'm riding for the researchers, oncologists, nurses, nurse practitioners, social workers, all the amazing people who are devoting themselves to doing something about this disease, and to helping the people affected by it. I am riding to advocate the non-profit pharmaceuticals that are working on the other thousands of diseases that go untreated, and the companies with conscience that are trying to make sure that the people who need a cure the most won't be denied of it.

I am riding for my friends who helped me through that very difficult winter break, and for the people who aspire to become researchers and oncologists, who can and will make a difference. For the people whose ultimate aim in the things they do or hope to do is for the simple fact that they want to help other people. And most importantly, I am riding for Catherine, whose lessons of love and sunrises will forever stay with me.

Future Goals:
Save the world.