Cyclists
James Gao
Trip Year: 2008
School: JHU
Hometown: Flemington, New Jersey
Email: james@jamesgao.com
Please support me by donating now: http://www.active.com/donate/hopkins4k/H4KJGao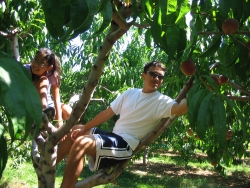 It is said that when all of mankind's greatest diseases are cured, cancer will be the one that will forever haunt us. This statement rings true to many whose lives have been affected by cancer, including my own.

When my grandfather, a great role model for me, passed away due to lung cancer, I promised that I would do something to halt its slow march. Having recently discovered cycling as a hobby, Hopkins4k has provided me an ideal opportunity to participate in this battle. Over the next 4000 miles, I will never suffer as much as those undergoing chemotherapy, and I will never be able to personally cure cancer, but I know that my contribution will bring awareness to a problem shared by all.

Currently a senior in neuroscience at Johns Hopkins, I plan to pursue graduate studies in biomedical engineering or computer science. Medical technologies used in diagnosing and treating cancer are driven by computers and other related engineering. My wish is that one day, the research I do will further the realms of cancer treatment and touch the lives of others.