Cyclists
Jesse Richter
Trip Year: 2008
School: JHU
Hometown: Pittsburgh, Pennsylvania
Email: JCRichter@jhu.edu
Please support me by donating now: http://www.active.com/donate/hopkins4k/H4KJRichte
Trip Leader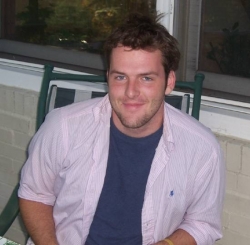 Could you imagine running a race where at every water stop you got to hug it out, share a laugh and get some serious motivation? Instead of just a cup of diluted Gatorade, you get the chance to hear someoneís inspirational story, to draw strength from their perseverance, and to give hope by doing something so unbelievable that it brings attention to such a great cause. Hopkins 4K for Cancer to me is that race. Every water stop is a town or city with people that have such emotional stories about battles, victories and defeats, with cancer. Each runner is a 4k rider that has the opportunity to draw strength from those people and give hope by raising funds and awareness while doing something very few people will ever do: ride their bike 4000 miles across the country.

In my lifetime Iíve been somewhat fortunate in that my friendsí and familyís encounters with cancer have been merely close calls. Before I was born, however, my paternal grandfather passed away from skin cancer, so I never had the chance to meet him. Iíve heard great stories about how hard he fought, and I hope to draw strength from that. So all I want to do is make a difference in some way. If I can give someone hope during their struggle, that will be enough. If I can raise enough awareness to teach a few people about the vast impact that cancer has, that will be enough. And if I can raise enough money to help an advancement in cancer research that allows a grandfather to meet his grandson, that will certainly be enough.

Future plans: paying off my Hopkins debt with a structural engineering job in DC or NYC.