Cyclists
Jessica Arms
Trip Year: 2008
School: Frostburg State University
Hometown: Forest Hill, Maryland
Email: spiderwoman2003@hotmail.com
Please support me by donating now: http://www.active.com/donate/hopkins4k/H4KJArms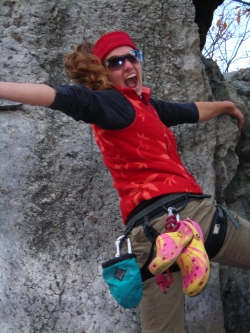 Proactive that is the word that comes to my mind when I think of the Hopkins 4k. It is such a real, hands on, legs pumping, muscle screaming way to make a difference on a huge scale.

Cancer has affected my family, taking the life of one family member and another surviving the disease by enduring chemotherapy. The Hopkins 4k is an incredible way to fight back. Death and disease donít discriminate, anyone can be affected at any time, so we can sit back and take it, or all be involved in this battle together! Dedicating some of my time and energy to impacting so many lives and achieving something great is an opportunity that I canít pass up.

I am currently attending Frostburg State University as a Recreation and Parks major (concentration Ė adventure sports), as well as being a cross country runner and an EMT. Every chance I get, I love to strum my guitar as well as enjoy the outdoors. My wish is that my future will be full of travel, adventure, and experience; influencing people in a positive way. I plan on continuing with EMS and working outdoors in the wilderness medicine and search and rescue field. I am going to be sure to do some extended service work abroad, cross a couple oceans, as well summit a few mountains.